Roll over image to zoom in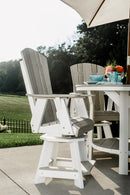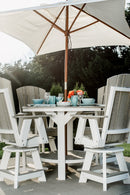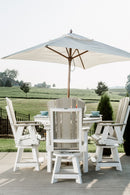 Description
Take an Additional 8% Off! Discount Code: BUYNOWGET8
(Apply the discount code at the checkout point)

FREE SHIPPING!
Host the party of the summer, grab lunch with a friend, or enjoy a candlelit dinner with a loved one with one of the dining sets! Constructed of durable HDPE resin, 316 marine grade fasteners. Eco-friendly. easy to clean. No maintenance. Made in the USA.
Each piece in this Heritage 5 Piece Set 48" Round Pub Table with 4 Swivel Counter Height Chairs by Wildridge all-in-one patio set is crafted of recycled HDPE resin with high-quality stainless steel fasteners. The result is highly rugged, easy to clean, and virtually maintenance-free. Best of all, you'll get to choose your favorite finish option. 
Table Comes with 1 5/8" Umbrella Hole unless specified

Includes 1 Table & 4 Swivel Chair

Assembled Dimensions: 

Table: W 48" x D 48" x H 36" in.

Height: 36"
Weight: 101 lbs

Swivel Chair: W 28" x D 22.5" x H 50" in.  

Counter Standard
Height: 50"
Chair Inside Seat: W 21" x D 17" 
Chair Seat Height From Floor: 22"
Chair Arm Height From Floor: 32"
Weight: 72 lbs/each chair

The average shipment date is between 1-3 weeks from the date of order placement
Commercial Grade: Yes
Material: HDPE Resin, Stainless Steel. 
Type: Deck, Patio, Pool, or Lakeside. Commercial
Brand: Wildridge
Warranty: Manufacturer 5 Years Limited Commercial, Manufacturer 20 Years Limited Residential.

Constructed of durable HDPE Recycled resin and 316 marine grade Stainless Steel fasteners. Eco-friendly. No maintenance, Easy to clean

Assembly: Required
Made in USA
Available Poly-Colors:
Cancellation and Return Policy
Last Updated: March 01, 2021
 Definitions:
GOODDEGG has a FREE REPLACEMENT POLICY for any wrong order delivery, subject to stock availability of replacement product. If a wrong delivery is made, and a replacement product is out of stock, the customer will be refunded in full within 45 days from written confirmation of wrong order delivery. The customer is required to report claim of wrong delivery along with photos of the product delivered and sent to support@gooddegg.com.
GOODDEGG has a FREE RPLACEMENT POLICY for damaged goods delivery. The customer is required to report claim on damage goods delivered within 24 hours from receiving delivery. The claim must contain photos of original packaging and damaged component and sent to support@gooddegg.com
GOODDEGG has a NO QUESTION ASKED return policy. The products need to be undamaged, unopened, intact in original packing. A 30% restocking fee + Transportation LTL Cost is required to be paid in advance for any return. GOODDEGG will not accept any return request after 7 days from the date of delivery.
Considering prevailing COVID 19 situation, increasing logistical challenges and supply chain disruptions, all sales are marked as final sale. Once an order has been placed it cannot be cancelled and/or changed by customer.
FREE Shipping and Delivery Information
Last Updated: July 1st, 2022
GOODDEGG Free Shipping zone Contiguous (Lower 48) United States (Except Alaska & Hawaii).
Shipping Methods:
Large Package Items ship with LTL Truck Carriers

Typical LTL delivery is Residential LTL and Carrier will call to set delivery appointment 24 hours in advance. Customer must be at delivery to receive and inspect the cartons and take Ownership at Curbside of ship to address.
DO NOT SIGN the Bill of Lading until you have inspected the item. Also, please do NOT wait to inspect the item (e.g. you are storing your furniture or you are waiting on completion of a home improvement project.
By signing for your delivery without noting the problem with your shipment on the delivery paperwork, you affirm your item was delivered to you with no damage or defect.
All damage must be noted at time of delivery and clearly noted on any Carrier Paperwork prior to accepting the shipment. Photos of the items and the packaging is required for any damage claims. Specifically one Image of the Carrier Paperwork, One photo of intact carton showing the damage, and one of the entire product damaged (for Identification of piece) and close up of specific damage. 

Small Package Items ship Parcel – via UPS, USPS, and FEDEX

All packages must be inspected and any damage of product reported to GOODDEGG within 24 hours. Processing of Claims may be handled by Carrier directly. Photos of the items and the packaging is required for any damage claims.
GOODDEGG General Warranty
Gooddegg General Warranty:
Gooddegg products are handmade and may have product to product variations. We warrant that they are free from manufacturing defects as of the date of purchase. 1 year manufacturer warranty on powder coated aluminum frame, wicker, 6 Months for foam, cushions and fabric.
Notes: Cushions foam and fabric covers are weather resistant, but aren't stain proof, waterproof or to remain on wet areas for extended periods of time. Dark & Bright fabric colors may fade depending on extended exposure to sunlight. Acts of Nature, any damage after initial setup or improper usage voids all warranties. In the rare event that you have a problem with your item please contact us at support@gooddegg.com or Connect with us using Live Chat
Please Note that Manufacturer Warranties may be slightly different and supersede the GOODDEGG General Warranty.