Renovating Your Patio is Simple!
Barbeques, fireworks, and sunshine are some of our favorite parts of summer.
Decorate your patio for such occasions. Renovating is a word that sounds expensive, but actually you can try simple things at home to achieve a whole new look for your patio.
After long months of winter your patio or backyard may be in need of some T.L.C., and we know that.
But where to begin?
The Furniture
The first and most obvious place to begin would be the seating and furniture for your patio. Don't underestimate how important your patio furniture is each season. The furniture really is the focal point. When people come over to your home for a drink and to enjoy the weather the first thing they will notice is your furniture. As they are comfortably seated they begin noticing all the details on your patio.We offer a wide array of wicker and polylumber furniture in a variety of styles. I personally think outdoor couches are the bee's knees, but maybe you like loveseats?
Durability is an important factor here. You don't want your wicker furniture to degrade, unravel, or rot throughout the season and we can promise that it won't. Our resin wicker is weather resistant, and corrosion resistant.
Green things
We are biased here. Gooddegg loves plants and finds a strong value in the purpose of plants. A few flowers or herbs can really transform your patio.
If you're someone who doesn't have a strong green thumb, fear not. Some plants require minimal supervision and it is nearly impossible to kill them.
Some of my favorite plants are succulents. Try succulents if you're new to gardening and potted plants. Not to mention that they are super trendy these days.
Succulents come in a variety of shapes and sizes and don't require much watering as they are indigenous to desert climates. If you're the creative type, or like eclectic décor, they can survive in almost any type of pot you fancy putting them in as long as there is some drainage. The only limitation is your imagination. Try planting your succulents in old tin cans or vintage tea cups. There are many options to choose from.
If you are like me you like your plants to serve some sort of practical purpose. I enjoy cooking and I really enjoy using fresh ingredients. I begin my seed starts around this time of year for various herbs or flowers that can be infused in teas. This year I started my chamomile, lavender, and rosemary seeds.  You can get a seedling starting kit from your local hardware and/or home/garden store. Don't worry about repotting after the seeds sprout. Most of the kits come with biodegradable pots that can be transplanted right into new soil.
Buying fully grown herbs is also an option if you don't want to start from seeds or are pressed for time.
Most herbs are still pretty low maintenance, but they do need more care than a succulent or cacti might. If you start your seedlings inside make sure that once they start to sprout they are in indirect sunlight for the photosynthesis process to help them grow. Direct sunlight may seem like the best, however as they're young and developing the sun may burn and kill them. Make sure to keep the soil moist, but not drenched as you may drown them.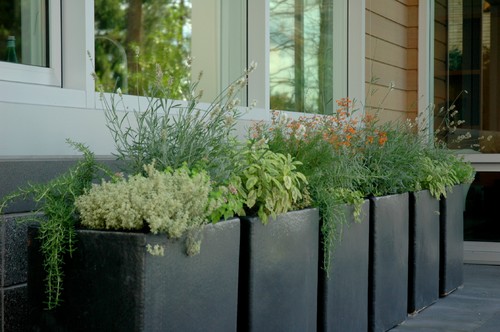 There are so many herbs to choose from, but rosemary and basil are my favorite. I like rosemary because it is such a satisfying flavor in cooking and the plant itself is very aromatic and comforting. I use basil quite often for cooking. Basil smells great, and doesn't require much to promote strong growth. (Tip: Be sure to prune frequently to promote new growth.)
Tip: If you leave these herbs in potted containers outdoors be mindful of critters. I have had terrible luck with bunnies over the years eating my herbs and veggies., I guess they think that they smell and taste great also. It may be wise to keep them elevated on an outdoor wicker table like the one included here.
Other Decor
We know you love your patio furniture, but have you thought about adding simple touches to revamp it? Decorative throw pillows can add so much character to your patio. From painted, refurbished furniture to throw pillows a simple touch can add a lot of character.
 Throw pillows are  inexpensive, durable, and can be changed on a whim. Interchange them as often as you please. You are not married to any color scheme.
Solar powered lighting is another great way to spruce things up in your backyard or patio. Solar Powered is a great first choice as the bulbs do not need changed out as quickly, they don't rely on electricity so they're great for energy conservation (we like that!) and they intuitively know when to turn on so that you don't have to be bothered with timers or remembering to turn them on at night. They add a nice touch to your backyard and an air of romance to the summer.
We hope this has helped get your creative juices flowing as you begin the process of renovating your backyard patio for the summer. If you have any questions, comments or concerns we're here for you!
The post Simple Ways to Renovate Your Patio appeared first on Gooddegg®.